Parotidectomy in Iran
The parotid glands are one pair of the salivary glands. They exist on the two sides of the face in the front of the ear lobe. Parotid gland tumors are very common and often benign. However, such tumors can grow in a bad way and possibly develop cancer. Therefore, it is better to have them eradicated by a parotidectomy surgery. This surgery is very serious and delicate, because it could cause a total facial paralysis. However, is it necessary and cannot be avoided. In order to reduce the risk of face palsy, the patient must resort to an expert surgeon. However, parotidectomy surgeries are highly expensive in several countries, especially when they are performed by qualified surgeons. Unlike many countries, Iran offers the best treatments and surgeries that are performed by highly qualified surgeons, such that Dr. Saeedi, with affordable costs. Please continue reading to get more information about parotidectomy in Iran with Dr. Saeedi.
What is parotid?
Parotid is the largest main pair out of three paired salivary glands. Parotid glands are situated on each side of the face below and in the front of the ear. Parotid glands excrete saliva, which eases chewing and ingestion.
What is parotidectomy surgery?
Parotidectomy surgery is a resection of the parotid glands due to the existence of a tumor within. Such tumors could be benign or cancerous. However, it is better to cut them out of the body because tumors could spread cancerous cells via the lymphatic system into the body.
Adults and children are likely to be at risk of having parotid gland tumors. Such tumors could transfer cancerous cells by bloodstream or via the lymphatic system, which could cause a spread of cancer into the body.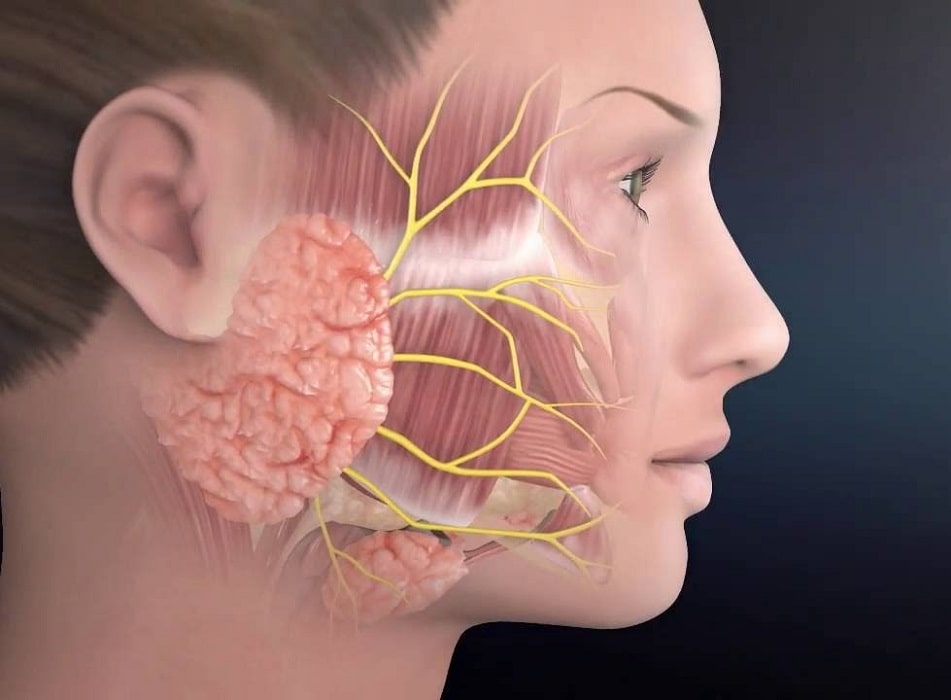 Parotidectomy gland removal
Salivary glands (especially the parotid glands) can be infected by viruses and tumors. Such infections cause swelling and pain to the glands. In this case, it is better to have a surgical operation for parotidectomy gland removal.
Parotidectomy types and parotidectomy steps
There are three types of parotidectomy:
Superficial parotidectomy
It is called superficial because the surgeon resects only the exterior part of the gland for parotid tumor removal. It is done by making parotidectomy mini incisions in the preauricular area. This operation causes no harm to the facial motions or nerve.
Total parotidectomy
It means eradicating the parotid gland completely, including the deep lobe and the superficial lobe, while keeping the facial nerve intact. This is very delicate and must be done by an experienced surgeon.
Radical parotidectomy
The facial nerve and the surrounding tissues are also removed with the parotid gland if they are affected by the tumor, which will affect or change the facial motions.
How is parotidectomy performed?
Parotidectomy is performed by otology and neuro-otology surgeons. It is performed under general anesthesia. The doctor makes an incision near the preauricular area. After that, the surgeon either partially removes the superficial part of the parotid glands or eradicates the parotid glands completely. In some cases where the tumor is close to the facial nerve, the facial nerve is removed or damaged.
What are the benefits of having parotidectomy in Iran with Dr. Saeedi?
Iran is best known for its successful medical surgeries, especially in this particular area, with low costs. In addition to that, Iran has the same medical technology that exists in the international hospitals of the developed countries with the best medical staffs.
Iran is famous for the number of specialist surgeons, especially in the ENT specialty. Iranian ENT surgeons are highly specialized and provided by the latest medical technology that matches international hospitals technology. ENT surgeons in Iran provide treatments and surgeries for all ENT problems, including parotidectomy.
Dr. Masoumeh Saeedi is one of the well-known ENT surgeons in Iran and especially in Tehran. She holds a specialized board in neuro-otology for more than 12 years, and she was ranked first in its entrance examination at the country level.
Dr. Saeedi did not consider that her acquisition of the specialized board is the end of her academic journey, but rather she underwent many international specialized courses in this field in countries such as Germany, France, South Korea, Malaysia, Portugal and others. Because of her academic excellence, she was able, only at the age of 33, to become an associate professor of otology at Baqiatollah University in Tehran. This in turn keeps her in constant contact with the academic life where she conducts scientific research in addition to practicing medicine and performing complex surgeries. She performed more Over 5,000 complicated surgeries during her many years working in this field.
Cost of parotidectomy in Iran with Dr. Saeedi
If we compare the cost of parotidectomy in Iran with the cost of parotidectomy in other countries, we will see that the prices of parotidectomy in Iran are reasonable and affordable. The costs of this surgery in the United States of America vary between $7,900 and $10,900 while the cost of parotidectomy in Iran only forms a small fraction of this cost even when considering the additional expenses of travelling and accommodation. Please contact us now to have a free specialized consultation online with Dr. Saeedi about your case and a free quote for parotidectomy in Iran with Dr. Saeedi.
The low costs of parotidectomy surgeries in Iran do not mean that they are performed by unworthy doctors. By having the parotidectomy surgery in Iran with Dr. Saeedi, you will benefit from her vast experience and deep medical knowledge, since she is a neuro-otology board certified surgeon with more than 12 years of experience in this field. She is also very keen to perform her surgeries in the best hospitals in Tehran.
Preparing for a parotidectomy
Before undergoing a parotidectomy surgery, there are several things to be done:
Undergo some medical tests like blood test.
Inform the doctor about any kind of medication that you are taking.
Inform the doctor if you have any chronic diseases.
Avoid alcohol and tobacco, drink water, and eat healthy food.
It is better to have the area shaved in the hospital.
Parotidectomy post op: what to expect?
In the first two days after parotidectomy surgery, the area that surrounds the stitches should be cleaned with water a couple of times a day. Sanitizing with alcohol or oxygen peroxide is not recommended because it could hold down the healing process.
The patient will feel fatigue and some side effects after the operation.
You will feel nausea and numbness due to anesthesia. However, once anesthesia wears off, the feeling of numbness and nausea will go away.
Follow a healthy diet.
Eating and swallowing will be difficult and painful during the first period after parotidectomy.
Parotidectomy aftercare
Parotidectomy healing time is set according to the type of the parotidectomy surgery and rapid healing. For example, some people stay six days in hospital care before they are discharged. After parotidectomy hospital stay, they need from two weeks to one month before they go back to their daily routine and work. Swelling wears off during the recovery from a parotidectomy. However, there might be some parotidectomy scars.
Parotidectomy discharge instructions
There are some parotidectomy after surgery care instructions:
Sanitize your hands before changing the bandages.
Follow the instructions of the doctor and take the prescribed medicines regularly.
Lift your head during sleep to avoid pain.
Avoid smoking and drinking alcohol.
Use cold compresses to ease parotidectomy recovery swelling and pain.
Apply prescribed antibiotic ointments twice a day followed by vitamin E ointment.
Follow a suitable healthy diet.
Parotidectomy follow-up: you must pay the doctor a regular visit to examine you and observe your condition in case the tumor grow back.
Wash and clean the place of surgery with water and soap.
Parotidectomy surgery risks and benefits
Every surgical operation has some accompanied side effects and possible risks. However, it can be dealt with by a professional surgeon.
Parotidectomy risks
Face alterations,
Nerve paralysis,
Pain when chewing,
Frey's Syndrome: an injury in the parotid glands that leads to redness and leaching while eating, dreaming, thinking, or talking about eating.
Parotidectomy drain,
Lack of feelings in your ear,
Seroma: fluid accumulation under the skin,
Parotidectomy scars,
Ear pain,
Dry mouth,
Ear numb,
Blood clots,
Inflammation.
Parotidectomy benefits
After eradicating a part or all the parotid gland, a biopsy is done to find out whether the tumor is benign or cancerous. After the operation, the swelling of the parotid glands wears off.
Parotidectomy and neck dissection
Parotidectomy is a surgical operation for eradicating a part or all the parotid glands. Neck dissection is a surgical method to remove the lymph nodes from the neck. This operation does not affect the body's immune system. Surgeons consider parotidectomy with neck dissection in crucial cases of parotid tumors.
Parotidectomy and bell's palsy
Bell's palsy is a paralysis in the facial muscles. This can be due to damaging the facial nerve during radical parotidectomy surgery.
In parotidectomy surgery, the surgeons try not to cause parotidectomy facial nerve damage. However, damaging the facial nerve is related to the location of the tumor.
Bilateral parotidectomy
Parotid gland tumors are often one-sided. However, there are some rare cases where parotid gland tumors are bilateral. In such cases, both sides of the face swell with or without pain. In general, parotid gland tumors are often benign. However, the tumor might transform into a malignant neoplasm in the future. For this reason, it is better to enucleate the parotid gland partially or completely when the tumor persists.
Superficial parotidectomy and the great auricular nerve
Most often in parotidectomy, the surgeons sacrifice the auricular nerve. Great auricular damage leads to some dangerous complications such as nerve block and Horner's syndrome (nerve damage that affects the face and eye).
Parotid gland cancer
Most parotid gland tumors are benign. However, 25 per cent of parotid gland tumors develop cancerous neoplasms. Cancer tumors are painful. They affect the facial nerve and numb the face.
Deep lobe Parotidectomy
The parotid gland has two parts: a deep part (deep lobe) and an external part (superficial lobe) with the facial nerve placed between these two parts.
The deep lobe can be eradicated without damaging the facial nerve. For this reason, parotidectomy deep lobe is considered a better surgery than superficial parotidectomy. In cases like the existence of malignant tumors in the deep lobe or suspecting a cancer growing in the deep lobe, it is better to have a parotidectomy deep lobe. When the facial nerve is surrounded and affected by the malignant tumor, it is necessary to sacrifice the facial nerve, which leads to total facial paralysis.
Parotidectomy vs. parathyroidectomy
Parotidectomy is the surgical removal of the parotid glands and parathyroidectomy is the removal of the thyroid glands.
In parotidectomy, eradicating the parotid gland does not affect the body or the immune system. However, eradicating the parathyroid glands causes hypoparathyroidism which is law calcium caused by the excess of hormones in the body.
Parotidectomy with facial reconstruction
Facial reconstruction after parotidectomy is performed in two steps:
The first step is micro-neural anastomosis: it happens by the use of end-to-end, facial-to-facial nerve branch anastomosis or micro-neural nerve cable grafting with greater auricular nerve. It is used to regain the height of the angle of the mouth.
The second step is facial reanimation: It is a surgical operation for facial paralysis treatment. It is also called "smile surgery" because it helps regain facial motions after tumor surgeries.
Parotidectomy and vertigo
Vertigo is not one of the common parotidectomy complications. However, it could occur in some cases.
Parotidectomy for large facial tumor removal
As parotid tumors grow, they become large and deformed and cover a wide area of the side of the face. There is a big chance that such tumors are malignant. In this case, parotidectomy is necessary. However, it may cause total face paralysis. It is highly dangerous and risky. Therefore, you must resort to a professional specialist.
Frequently asked questions about parotidectomy
How long does a parotidectomy take to heal?
The rapid healing process takes about a month. However, some side effects like ear numbness need a year to recover.
How long does parotidectomy surgery take?
Parotidectomy is a complex surgery and it takes about 2 – 4 hours.
Is parotidectomy dangerous?
Parotidectomy is a surgery that might cause some serious damage like facial nerve palsy. For this reason, it is dangerous and should be performed by a board specialized surgeon in neuro-otology.
Is parotidectomy painful?
During the surgery, the patient will be anesthetized. Therefore, he/she will not feel any pain. After the surgery, the patient will experience a degree of pain that can be controlled by prescribed painkillers.
Is parotidectomy necessary?
Most parotid gland tumors are benign; however, these tumors could develop cancer in the future. For safety, it is better to have them eradicated.
What is superficial parotidectomy?
Superficial parotidectomy means eradicating the superficial part of the parotid glands along with the tumor and it does not usually affect the facial nerve.
What happens after parotidectomy?
After the surgery, the patient stays in hospital care for 6 days. The patient is daily examined and provided with inflammatory medications.
What is conservative parotidectomy?
Conservative parotidectomy is the partial removal of the parotid glands with the least damage possible to the branches of the facial nerve.
What are the causes of parotid tumors?
The main causes of parotid tumors are:
Dryness of the mouth.
Tobacco use.
Radiation exposure.